DiggySyS is committed to helping clients build a talented, high-performing workforce. We expertly integrate and deliver the services, resources and technology needed to reduce an organization's spend and ensure high-quality service delivery and execution. Our service delivery model is designed to provide the right level of dedicated, high-touch account management resources balanced with efficient centers of excellence for transactional activities - and to scale your account resources based on real-time workforce needs.
A dedicated team delivers personalized service, coupled with a technology-rich delivery model to ensure service excellence and industry-leading automated processes. Our distinctive model is driven by our ability to:

 Locate client resources onsite, nationally, regionally, locally and virtually

 Continually monitor hiring trends and anticipated demand

 

Adjust staffing levels to ensure optimal workload balance

 

Provide a shared services infrastructure for integrated reporting and analytics

 

Leverage deep vertical expertise for trending and benchmarking

Tailor solutions designed for individual needs, requirements and goals
Our approach focuses on providing the optimal service, support and relationship management techniques to meet the requirements of your immediate and long-term workforce plan and acquisition strategy.
The ability to evolve and adapt to a constantly changing talent landscape is essential to an effective RPO partnership. It requires an RPO partner with dedicated resources and expertise, focusing solely on quality and innovation. 
Why Invest in DiggySyS's Talent Acquisition Services

 Better understanding of requirements

Excellent TAT

 

True fit - A 12 step resume screening process followed to ensure better quality of candidates

 

Better assessment and reference checks

 

Negligible drop outs after final selection

Use of Applicant Tracking system e.g.- Hire desk, which ensures better tracking of candidates across globe
Key Result Areas

 Data base of quality profile

Strong in Middle level and Senior level recruitments

 

Automated Recruitment Management System

 

Fast uptake, Planning and Execution
Service Offerings

Staffing Solutions  

Outsourcing Solutions  

• Permanent Staffing Solutions
• HR Process Outsourcing
• Temporary Staffing Solutions
• Competency Based Outsourcing
• Project Based Staffing Solutions
 

Training and Skills Development  

 
• Corporate Training solutions
 
• Corporate Skill Development solutions
 

End to End RPO services

| | |
| --- | --- |
| • Candidate Sourcing | • Reference check and trial close |
| • Resume Screening | • Salary/ Rate negotiation and final offer |
| • In depth assessments | • Final hire and on-boarding |
| • Hand holding/interview scheduling |   |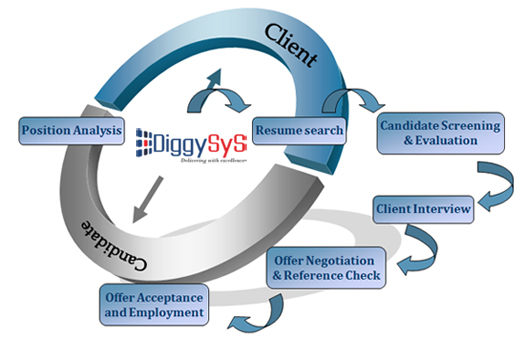 Our Executive Search Cell

 Appropriate where the position needing to be filled is senior and the qualified candidates are few

Detailed consultation with the client company, our own extensive industry knowledge and network of contacts, and
  ongoing client communication are the cornerstones of these sensitive projects

 

We identify and target a specific set of Passive candidates, following detailed discussions with our client

 

Candidates are then approached and their suitability is ascertained before we invite them in for interview, where
   they then go through the screening and interview process
Services to Verticals

Telecom  

Mobile & IT  

• VoIP
• Application
• OSS
• M-commerce
• Wireless
• Streaming
• Infrastructure
• C

Enterprise  

• Java
• SAP
• SAP
• Retail
 
• Logistics
 
• Oil and Gas
 
Knowledge & Database
Expertise in various SAP Modules on functional and technical side such as FICO , MM (CIN) , PS , HR ,

 We have been maintaining an active database on domain specific consultants as well.

Being a SAP Certified Company we have Technical know how and operational understanding as well.

 

Expertise in Telecom technology such as 3G, VOIP, SS7, GSM,CDMA, IPTV, DVB

 

Expertise in Protocols: SIP, H.323, MGCP, Rational Clear Case, Visio, Bugzilla, MANTIS, Cisco Gateways, Class-   5 Switch, Vision ICE, Vision Probe, Cygwin, Source Insight, Tornado, Vision-Click, Wind view, GNU Debugger,       Wind Debugger, Ethereal, Apache, Sun Solaris, Red Hat Linux, Windows, MAC OS

 

Programming Language: C,C++, JAVA, TCL/TK, PERL, Python, GTK+,QT,OPEB GL, SQL